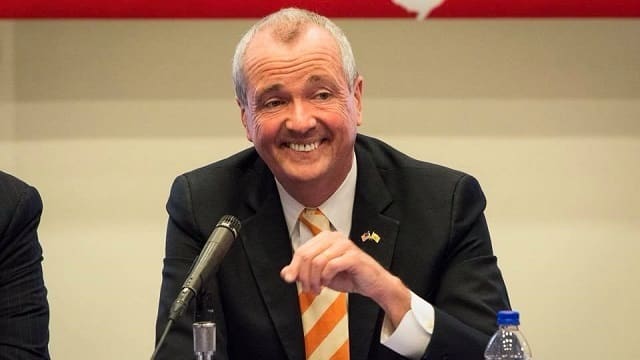 the staff of the Ridgewood blog
Trenton NJ,New Jersey is facing a financial disaster due to loss in revenue and spike in expenses related to the coronavirus outbreak that could be just weeks away, Governor Phil Murphy .  The governor went on, "We are on the brink of having to make very tough and, quite frankly, very unpalatable decisions."
Murphy has previously warned of "historic" public worker layoffs without federal assistance. "A fiscal disaster is not months away, these decisions will be on our doorstep in just a few weeks," Murphy said. "Congress needs to act, and act now."
Over the years Trenton has viewed tax increases as the answer to everything  and taxpayers have viewed moving out of New Jersey as the answer to everything.  Clearly the governor  is laying the foundations for massive tax increases.  Yet will the state finally be forced to trim the fat . Even New Jersey Senate Present Steve Sweeney  has suggested the state could layoff 100,00 state workers .
In March, the State Treasurer disseminated a voluntary disclosure regarding the severe impacts that the COVID-19 pandemic is expected to have on the State's economy and financial condition, including declines in revenues in gross income taxes, corporate business taxes, sales taxes, motor fuels taxes, casino-related taxes, and lottery sales, among other sources of revenue in both Fiscal Year 2020 and Fiscal Year 2021, as well as negative impacts on liquidity due to the extension of the State tax filing deadline from April 15, 2020 until July 15, 2020.
"New Jersey is not alone in dealing with unprecedented budget challenges right now as this crisis continues to unfold," said Treasurer Elizabeth Maher Muoio. "Building our reserves to responsible new heights was one of our paramount fiscal goals. However, COVID-19 handed us an entirely new reality. Absent additional federal funding and a substantive borrowing facility, our foremost priority now is ensuring sufficient cash flow to meet this health crisis head on while also meeting our basic obligations."
Governor Murphy said that he was ,"vetoing numerous bills the legislature sent to my desk to appropriate money to any number of causes and programs. I don't want to veto them. But given our current fiscal situation, I have no other choice. These discussions aren't just happening here in New Jersey either. They're happening across the nation. We need the federal government to step forward with significant investment in our states, both red and blue, to prevent our recovery from being held back because we cannot fund it. Every Governor shut his or her state's economy to combat COVID-19. We all will feel the devastating impact of this necessary but costly action. Across the country, cuts to critical services are inevitable and bankruptcy is not an option." Its hard to believe the governor is taking any  serious action of spending cuts , given his raise taxes on everything and if you don't like high taxes move attitude.
Then the Governor commented on additional state borrowing ," But even if Congress delivers, it won't be enough. We will still need to borrow on a short-term basis to bridge our immediate cash flow needs. For weeks I have been working collaboratively with the Legislature to provide our administration this authority, and I asked them today and I asked you to ask them today to pass this legislation swiftly so our frontline responders can breathe a little easier. " .  Does anyone really believe this , or is more a matter to total fiscal irresponsibility over the last 50 years ?